Podcast: Play in new window | Download
Subscribe: iTunes | Android | Email | Google Play | Stitcher | RSS | More
The martial art chicks use to kick your ass • How social media can trigger a diabetic coma • The phrase that separates liars from truth tellers • How Larry's pal was lobotomized by a pointy chick • What is the "truth app?" • Life hacks from the dojo • What do serial killers and super-heroes have in common? • What's in the tortilla chip bag that made Larry's kid puke? •  All this and more!
We've all got our secrets, and we know they're safe with the NSA and Julian Assange. in this episode you 'll learn to decipher the code of social media romantic BS that can save you rivers of tears and oceans of money.
You'll get a first look at the new feature, Life Hacks From The Dojo. (They ain't no TED talks, folks.) In this debut segment, you'll learn how to (non-violently) flip price-gouging salespeople and get what you need at rock bottom prices. Life is one big negotiation, and TNS Dojo members always win.
You'll also get a peek at the new mystery that's got a billion dollar food company soiling its diapers. What the hell is in the tortilla chip bag that made Larry's kid puke? We don't know, because the bag is still unopened. But it sure as hell doesn't look like something you'd want to eat.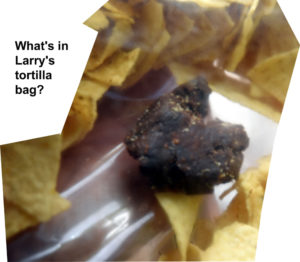 What's your guess? Email it to us at thatlarryshow@gmail.com. Or call us at 302-71-Larry. Give us your guess and/or tell us what foreign matter showed up in your snack pack.
Geraldo Rivera got famous when all of America tuned in to see Al Capone's safe opened, where they found… nothing. Look at that picture, kids – does that look like nothing?
The Twitter action is heating up, so follow the show and you'll never miss a single snarky morsel. If snappy imagery is what titillates you, follow the show on instagram, where every-eye popping, snowflake-triggering thumbnail is meticulously preserved and displayed in one tidy digital showcase.
Get yourself over to Patreon and join the Take No Sh*t dojo. There you may reap special rewards, like Larry's signed books, or custom ring-tone recordings in the voice that's launched a thousand fantasies. You'll learn how to transform yourself into your own Superman and listen to a live recording of a Commie Russkie soldier making love to a chimpanzee. Most of all, you'll be in with the in-crowd – the swingin' senseis that have the answers you've been searching for.
While you're having all these adventures, you'll want to look your best, and the best way is in this official TNS Dojo T-shirt in gunfighter black. Get one before they're all gone.