Podcast: Play in new window | Download
Subscribe: iTunes | Android | Email | Google Play | Stitcher | RSS | More
Triage/first aid for a busted heart • How to armor yourself emotionally • How to get over a bad romance – fast • How to win the games females play • The season that may force Larry to leave So Cal •  How Larry's autumn leaf burnings caused the establishment of the EPA • How to make yard work fun with DIY pyrotechnics • The (now) banned story that made Larry fall in love with autumn • All this and more in the AUTUMN SPECIAL Episode!!
Autumn. The season so special, it has two names. But then, so did Son of Sam, aka The .44 Caliber Killer. Nonetheless, no time of year can match Autumn. It's the season that works all our senses like some sloe-eyed odalisque in a Parisian bordello, determined to take everything from us in a single night, including our souls.
Autumn isn't just the most female of seasons, she's a slinky cougar with a skill set no fresh -faced ingénue can match. She's got some laugh lines and crow's feet. But before you can inspect them, she'll dazzle you with colors no palette could hold. While you squint and gawk, she'll fling a cold wind at your neck, forcing you into her arms and once there, you're finished. The scents of cider and burning leaves and gutted pumpkins soothe and intoxicate. Your senses reel and you stumble and collapse upon her velvet divan where she whispers promises she'll never keep. When you awaken in the morning, it's winter and all is lost. But it was worth it for what she did to you last night.
Autumn is a bitch – but don't we love bitches? Of course we do, which is why the first part of this episode is my love letter to the sneaky bitch of a season who lures us in September with warm, sepia toned afternoons and boots us out into a cold, dark alley late in December.
My perennial affair with Madame Autumn began with a children's story that was a staple in Sunday newspapers for most of a century. It was the drawing that grabbed me, as I was too young to read when I first saw these images, which always accompanied the story.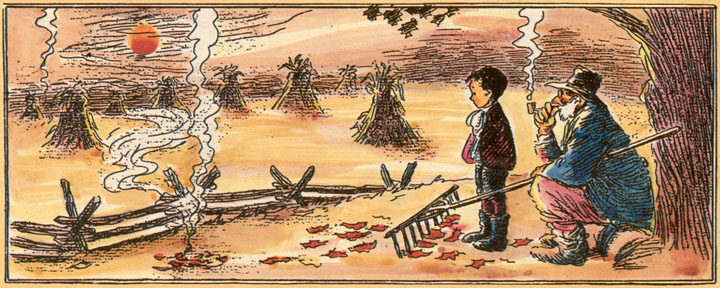 Now, this innocent children's tale has been banned by Thought Police. In this episode, hear the old man in the illustration give his side of the story.
Then it's on to a real-life dilemma faced by listener Dan, who has the bravery to reveal how he was dumped by a girl he not only loved, but still loves. This we cannot abide, so our savvy senseis give Dan their all with first aid for his busted heart plus a workable plan he can implement to not only self-heal, but emotionally thrive — all while dishing up a little payback to the broad that done him wrong.
If you've ever been in love or plan to be at some point, this is your episode.
Want even more secrets of a Take No Sh*t life?  Go to Patreon and join the dojo. There you shall find even more nuggets of wisdom and access to stories only Dojo members hear. Not to mention the fellowship of a fantastic crew of people.
And then follow the show on Twitter here.
And get a TNS Dojo tee shirt here.
Email us your problem at thatlarryshow@gmail.com.
Or a voice mail at 302-71-larry
See you next Tuesday.