Podcast: Play in new window | Download
Subscribe: iTunes | Android | Email | Google Play | Stitcher | RSS | More
Larry meets Hef • Larry goes to the Playboy Mansion •  Discover why Hef was a NERD and a CUCK and driven by RAGE • Larry meets his first Playboy Playmate (at 15!) • What's really happening in Vegas post massacre? • View the tip of the bullsh*t-berg • How to deal with shy chix – and what makes them shy?
Other than catastrophes and natural disasters, we rarely recognize the milestones in our lives until we view them in the rear-view mirror. And so when I met my first Playboy cover girl at the Custom Car & Hot Rod Show and sustained one of my first shattered fantasies, I didn't clearly understand it until many years later when I met the architect of that fantasy, Hugh Marston Hefner.
Hefner was to pornography what Steve Jobs was to computers. Except, when Jobs died, it didn't signify the end of the computer industry. But Hefner's passing was like a light – a soft red light in a window above a lonely, rain-slicked sidewalk – winking out, never to glow again. Because what every mouse clicking, phone thumbing, tablet stroking Pornhub visitor may or may or may  not understand is that had there been no Hef, there would be no Pornhub. He was the Columbus, the Magellan, the Edison and the Neil Armstrong of naughty imagery. And now he's gone. And no Pornhub users can ever say they view Pornhub "for the articles." They, we and the NSA know exactly why they are there. Click, click, click. Ugggghhhh.
Hefner was an enigma and in this episode, the incongruities between his public persona and his true nature are illuminated as never before.
It's been 10 days since the Las Vegas massacre and it may prove to generate more conspiracy theories than the JFK assassination or 9/11. We may never know the whole truth. We're seeing a load of loose ends and contradictions. One of our own TNS Dojo senseis, Mike Honcho, a tip  of the spear military operative, weighs in with his expert opinion on the ordnance used by scum bag shooter Stephen Paddock.
The New York Times calls him "Mr. Paddock." They also called Charley "Mr. Manson" and probably gave Adolph the respect of "Mr. Hitler." We don't do that. We mock creeps in this dojo – unabashedly.
Next, a listener from the UK gets his answer about how to deal with a shy woman for whom he has the hots. To answer him, I had to query other senseis because I never dated a shy woman. Dating is arduous enough. Having to "draw somebody out" was additional work I refused to do. But it seems lots of guys dig shy chicks. Like Rocky Balboa. And Rory, from Great Britain.
The fame of this show is spreading far and wide. Check out this banging video posted by listener and Patrioni The Mighty Plantain.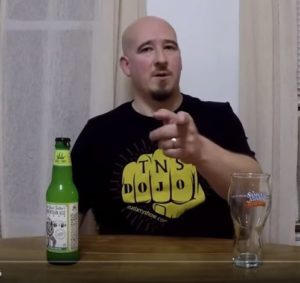 Not only does he hip the world to an adult beverage he favors, he does so while wrapped in a Take No Sh*T Dojo t-shirt in Gunfighter Black. He looks good. Damn good. Thanks for supporting the show and for the plug, Mr. Plantain! And everyone, please subscribe to his YouTube channel to know what's worth drinking (and wearing) or not.
Get your own official TNS dojo shirt here.
Join thatlarryshow.com Patreon here. It's the greatest group of people on earth.  And follow the show on Twitter here.
See you next Tuesday. Or, if you're anywhere near Los Angeles, get over to the Satellite in Silver Lake where I'll be appearing this Friday, October 13 @ 8pm with Dick Masterson and his crew of comics, reprobates, hoodlum attorneys, Playboy model Layc Nicole, Schzeaughewn the V-neck wearing engineer and Christ knows who else. Probably midgets on unicycles with their heads on fire.
I'm supposed to do an exhibition of erotic karate. I'm pretty sure it will be a rodeo. Or at the very least, a milestone. I intend to recognize this one as it happens, or at least before I meet Hefner again.