Podcast: Play in new window | Download
Subscribe: iTunes | Android | Email | Google Play | Stitcher | RSS | More
SCANDAL CLAUS – Larry's musical uppercut to icons destroyed by sexual misconduct • Why Larry needs YOUR help – NOW! • How social media may wreck mankind • Larry attends a Christmas parade in 83 degree heat • Facing your Ghosts of Christmas Past • Why Bethlehem is L.A.'s twin city • Why all gifts are crap • The TNS Dojo 2018 Tour – why it MUST happen • All this and MORE!
Can you believe it? An entire year has elapsed since I helped Charlie Brown into a warm tub, handed him a fatal dose of Nembutal and sang him into eternity.
So it's only fitting that on this momentous occasion, I again use music to demolish more not- so sacred cows, like Harvey Weinstein, Kevin Spacey Matt Lauer, Al Franken, Louis CK et al. If I could, I'd pin their pajama sleeves to the outside of their blankets for the rest of their dirty little wanker lives.
Instead, I wrote and performed my own scathing song for these creepy, groping miscreants –  SCANDAL CLAUS IS COMIN' TO TOWN. So click this link and listen and watch the video and then share it with the world.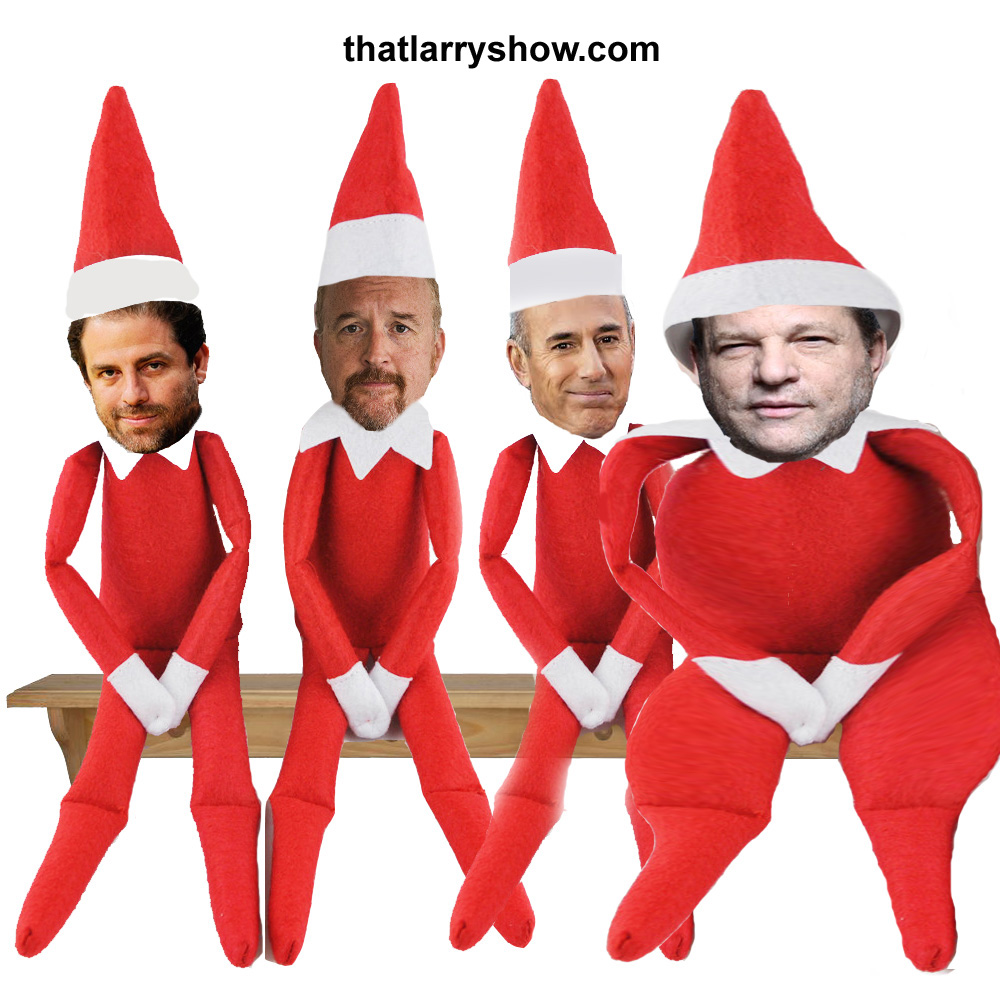 Help make this go viral so I can schedule the TNS DOJO 2018 World Tour. I must make this happen, but I cannot do it alone. Share this video link with every one you know – especially Twitter friends with jillions of followers. Or AM radio DJs, or big time bloggers or other podcasters (who are not punks or pukes). Because all it takes is one of them to endorse and retweet and ka-boom — the tour will happen.
You have to do it NOW – December 26 is too late.
Couple of big things coming your way. 1) My year end GOSS BOMB. What is it? Well, if you think you know everything about those other podcasts that resulted in that $20 million lolsuit — you don't. So stay tuned – I'll post that juicy episode  ( Patreon only) in a few short days.
Next Tuesday, December 19 will be the official Christmas episode. Something very different – so different that you can listen with your kids. I won't use even one bad word, I promise.
Email me at thatlarryshow@gmail.com
Voice mail me at 302-71-larry.
Swing by iTunes and give the show a 5-star review.
And most of all — share the crap out of this link and make Scandal Claus a viral phenomenon.