Podcast: Play in new window | Download
Subscribe: iTunes | Android | Email | Google Play | Stitcher | RSS | More
Interview with Kim Jong Un's personal hooker • The EXACT date of WW III revealed • Why Kim Jong Un is the HERO WE NEED • What's in Kim Jong Un's cargo container-sized toy chest? • The "special place" where Kim likes to be touched • Why Dennis Rodman is our only hope • Who was Larry's personal boogeyman? • Why you should embrace the apocalypse • How Kim compares to other boogeymen • Is Kim a cross dresser and what does he wear? • Why Justin Bieber is safe from Kim's nukes • Why WW III should be called The Big Reset. All this and more… if we're still alive!
This may be the best episode ever. Definitely top 3.
Armageddonwithit, baby! Always ahead of the curve, this show gave you all you need to know about prepping for the apocalypse back in January. (Check that episode out here.) Back then, Kim Jong Un was as quiet as a mouse with bad hair wearing hand-me-downs from Mao. Now, he's running his mouth like Hitler on meth. And the message is – prepare to die, Yankee scum!
Just how severe is this threat? Judge for yourself when you listen to an in-depth interview with Kim's favorite courtesan, who is now living large in Beverly Hills. She dishes all the dirt, from his penchant for lingerie to his boy crush on Justin Bieber.
We also reveal the exact date WW III will begin. Spoiler alert – don't bother building a bomb shelter, the concrete will still be soft when the mushroom clouds are blooming. And that's a freeing fact isn't it?
So forget about survival and just try to look your best – and that would be in a TNS Dojo t-shirt. There's going to be a long, long line at the pearly gates and that shirt will deter line -cutters and wise-asses. So get one here.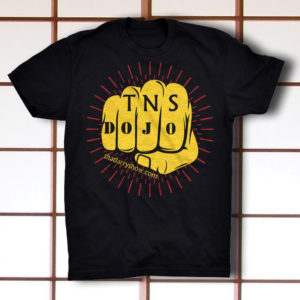 Follow the show on Twitter. And join the Dojo on Patreon. Now. Because the Take No Sh*t Dojo has always had a big ass, well-stocked bomb shelter. It is most definitely NOT open to the public. Members only. That means Patrionis. Click here and save your life. While everyone else is on the surface getting their asses and backs broiled doing duck and cover, we'll be sipping top shelf scotch, tucking into filet and listening to Tony Spumonte regale us with tales of La Cosa Nostra.
You've been warned.