Podcast: Play in new window | Download
Subscribe: iTunes | Android | Email | Google Play | Stitcher | RSS | More
How to win a free TNS Dojo t-shirt • Confidence – how to get it, how to keep it • Why everything they tell you about booze and drugs is a lie • How to pick cool friends and unload the losers in your life • The magic word that guarantees success • What to do if you hate your friend's fiancé • What is cripple culture? • Innocuous words they use to control you • Why solitude is good for you • Starter kit for broken hearts • All this and more!
HOW TO WIN THIS SHIRT: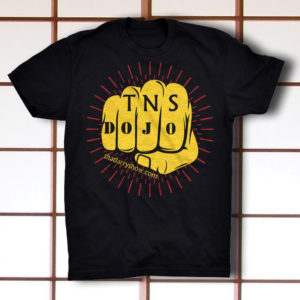 Got a celebrity-caliber Facebook friend or Twitter follower? Have them endorse thatlarryshow.com in a post or Tweet, send a screen shot to thatlarryshow@gmail.com and yours may be randomly selected. If it is, you get the free shirt.
Or, you could just buy one here: The TNS Dojo Store
How do they look "on"? Here's two proud and satisfied dudes with that TNS 'tude – "justified" Jay Lacy and the untamed Matt Savage.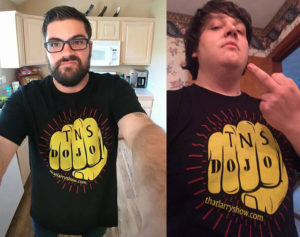 Besides all the brawn, brains and good-looks, many TLS listeners are creative giants. Check out this amazing logo art by Jim Schmatz: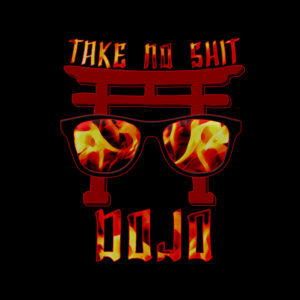 Can you see that on a t-shirt? I'm seeing it on shirts, stickers, coffee mugs, shot glasses, brandy snifters, and inked on the thighs of pointy chix. Have I missed anything?