Podcast: Play in new window | Download
Subscribe: iTunes | Android | Email | Google Play | Stitcher | RSS | More
What are the 3 keys? • Tony Spumonte and the glass meatball • How Larry beat the neighbors from hell • Who is the Fabulous Don Kane? • What is he laughing about? • What is the "jelly bean corollary" and how can it save YOUR life? • Why everything you own is a souvenir • How to pick the perfect mate • All this and MORE!
Plus, follow Larry on Twitter and win a TNS Dojo t-shirt while staying abreast of an impending throw-down with Dick Masterson. Listeners are screaming for it, and I'm not about to let my friends down. What about Dick?  You'll have to ask him.
Here are two long-standing Dojo members – the fabulous newlyweds Sarah & Raf. Congratulations!  Which do they love more – each other, or their official 100% cotton, sensual yet dangerous TNS Dojo shirts?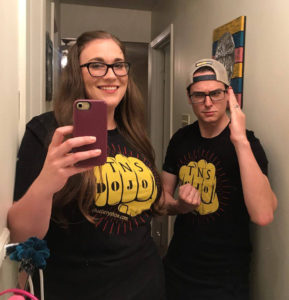 If you want to be heard – really heard – you can vocalize any time by dialing 302-71-Larry. If we play your voice mail, listeners in 78 nations (at last count) will hear your voice. How's that for global fame?
Even more than fisticuffs with that other, rage-filled pod-caster, people want a live show/meetup – and so do I.  So tell all friends, enemies and strangers about the show. Pop over to iTunes and drop 5 stars on us. And join the TNS Dojo , for your own good and the good of the nation.