Podcast: Play in new window | Download
Subscribe: iTunes | Android | Email | Google Play | Stitcher | RSS | More
Who is Mickey Gubitosi? • Who inspired Larry to Take No Sh*t?• Why is Robert Blake banging a gorilla? • Why did Robert Blake mention Larry Bleidner on Larry King? • Why Robert Blake worries about his testicles • Is Robert Blake taller than you? • How Larry found  O.J. Simpson in the Twilight Zone • What word is written on Larry's imaginary blimp? • Why were Starsky & Hutch 2nd rate wimps? • How to escape misery • Who was the coolest TV pimp?  All this and more!
Yes, this is showbiz, friends, so load up on the dish and dirt straight from the fakery factory… Hollywood USA.
Hot bonus episode coming up this week – the CLIMAX of the Vengeance is Ours trilogy, and it's only available on Patreon. So join the dojo and hang with a crew that lives the Take No Sh*t life.
Follow Larry on Twitter , and if you've got a Facebook friend or Twitter pal with a ton of friends/followers, have them endorse thatlarryshow.com in a post or Tweet, send a screen shot to thatlarryshow@gmail.com and the biggest endorsement wins you this official TNS dojo shirt.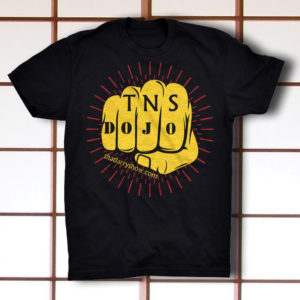 Don't forget to give us 5 (throwing) stars over at iTunes