Podcast: Play in new window | Download
Subscribe: iTunes | Android | Email | Google Play | Stitcher | RSS | More
What is a Death Bomb and why did it terrify Tony Spumonte? • Who is Bleeding Jesus Freddy? • Why all inflatable gorillas should be stabbed  • Which sucks more: Sale-a-thons or Sale-a-brations? • The evil fireworks ring you should love and support  • What's inside Larry's bag of tortilla chips, and why did it make his kid puke? • Which is the greatest patriotic song and who recorded it? • Will America exist in 1,000 years? • If not, who will have destroyed it? • All this and more!!!
Christmas in July? In America, we've had that since 1776 when we flipped the bird to King George and granted ourselves the real first freedom, the right to blow stuff to smithereens every July 4. But safety-obsessed nanny-statist puke bags have revoked that right, or at least gelded it to a point where spirited hand claps may be deemed "offensive displays of nationalism." Those people are garbage. Throw 'em out!
In this episode, harken back to a July 4th in the not-too-distant past where Larry and his crew ignite a firework that would have Homeland Security wetting their pants and screaming for life terms.
Hang with Larry, Tony, pointy chicks and a new side-man: Bleeding Jesus Freddy. Eat and drink until your guts burst, then drink some more, play volleyball, water ski and at dusk, prepare for the big KA-BOOM! That's what the 4th is all about. Freedom and adventure. Scarce in this world but abundant in every episode of That LARRY SHOW.
I call on all listeners and Dojo members to help solve a mystery – what's in the tortilla bag that made my daughter puke? The bag remains sealed and the billion-dollar manufacturer remains unnamed. Perhaps next week I'll post a photo of the sack and its repulsive foreign matter contents. I refrain from doing so today because chips are a staple of 4th of July feasts and I don't want to ruin yours with a hideous image of… whatever the hell is in that bag. You cannot un-see this,  folks.
Did you know the show is on instagram? Some claim this show has the best thumbnails in all the podcast universe. Every one is meticulously conceived of and hand-crafted by your humble host. What do you think?
Stay tuned for tomorrow's big, BIG release – only on PATREON. HOW TO BUILD YOUR OWN SUPERMAN… YOU.  What's it about? It's about $5, but it's the single best investment in your future you'll ever make. Don't miss it.
Follow us on Twitter , where we deliver 140 – character throat-punches to Commies and other creeps between episodes. Sometimes they're group beat-downs with Dick Masterson.
Send us your troubles to thatlarryshow@gmail.com. But be quick about it. Our senseis are becoming overwhelmed and we may have to make them accessible only through Patreon.
Get an official dojo tee shirt here. They're nearly sold out and collectible as hell – there won't be a second run once these are gone.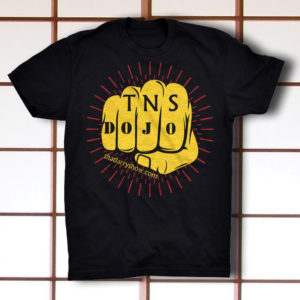 I do hope you have already acquired you illegal fireworks for a bangin' 4th of July. If you're reading this, you already know about TNS, so I'll leave you with a temporary slogan that will carry you safely through the coming holiday. DO NOT HOLD IN HAND.