Podcast: Play in new window | Download
Subscribe: iTunes | Android | Email | Google Play | Stitcher | RSS | More
What song makes Larry go postal? • What is a mamaluke? • TONY SPUMONTE's mob criteria for friendship • What your school never taught you • Best ways to choose your friends • The drugged-up doctor you must avoid • Meet one of Larry's early TNS Senseis • Who are the dumbest guys we know? •  Parental showdowns you need to see •  What do Bill Gates, Richard Branson and Steve Jobs have in common? • All this and more…
The audience has spoken… your favorite episode so far was last week's journey into Father's Day. The reaction was just astonishing… thank you! If you've not yet listened, click here to discover why strong men (and women) were fighting back tears (unsuccessfully) all over the world.
Now here's the audio bookend to the dads 'n' grads seasonal. If you're anywhere between kindergarten and the Polident years, there's something here for you. Like meeting Mr. Petz, the Take No Sh*T teacher who imbued me with many of the dojo principles we all cherish. Or the high stakes (2 months detention!) spelling bee between dim-bulb mamaluke Tommy Amanti and the sadistic Dean of Discipline, Doc.
Every Ivy leaguer who hears this episode will hate my guts. Find out why I already hate theirs.
What's the hideous disconnect between education and real smarts? They're lying to us, friends… shoveling untruths at us with both hands. Listen and learn.
Meet our new Dojo sensei – the tip-of-the-spear airborne infantryman now at the ready to help you slap your adversaries (and problems) into submission. Get at him and the rest of us at thatlarryshow@gmail.com or call the dojo at 302-71-larry. We're here to help. And we'll be trying to do that with greater frequency when we launch our Nuggets From the Dojo mini-sodes later this month. We'll hand-pick universal life dilemmas you send us and share them with the world – the Patreon world, that is, starting with yellow or blue belt dojo members (we've not yet decided which.) And our next bonus episode – on how to transform yourself into the only superhero worthy of his cape – Superman – will also be available only to Patreonis – so what are you waiting for?
It is now officially summer. From Bangor to Baja, that means tee shirt weather. The store is nearly sold out of our original TNS dojo shirts in gunfighter black. We may make each run unique, so if you miss these, they may not be repeated.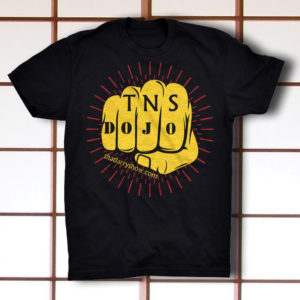 Follow the show on Twitter , where we often throw out bon mots and sometimes incendiary epithets about Commies and other pukes.
And all our bangin' thumbnails are now in one tidy gallery on Instagram for your viewing pleasure. Are they the best thumbnails in all of podcast land? So they tell me. Maybe we should make a calendar of them.