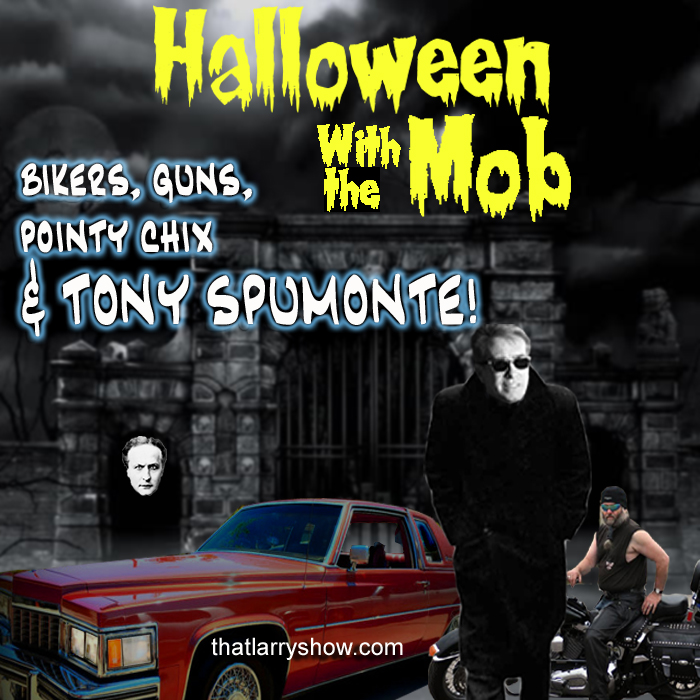 Podcast: Play in new window | Download
Subscribe: iTunes | Android | Email | Google Play | Stitcher | RSS | More
Larry & Tony Spumonte visit Houdini's grave – does Tony leave another body there? • How Larry saved Halloween – and you can too • Why Larry Trick or Treated at the Butcher • Larry's 1st Halloween – what was his costume? • Screw VR – get Larry's Wish Fulfillment Glasses absolutely free! (Listen for instructions) • All this a more!!!!
Hop in Tony Spumonte's Coupe de Ville and take a ride with us. Where to? To the crossroads of Madness and Enlightenment where we'll pick up Rod Serling and some pointy chick hitchers in crop tops, Daisy Dukes and 6-inch ankle straps. We'll stop at a liquor store, grab a couple pints of Thunderbird and a fistful of Slim Jims. Then, it's pedal to the metal on the Lost Highway until that 425 screams for mercy and fights back by shooting piston rods through the hood so far and so fast, they wind up impaling Han Solo's retinas as he steers the Millennium Falcon through hyperspace. And we'll laugh at his screams.
No, its late and I'm tired and this may be the very best episode ever. One Halloween Tony and I and our pointy girlfriends decided to visit Houdini's grave. The mission was fueled by Entenmann's cawfee cake and copious amounts of Amaretto and Sambucca. For real, every year on Halloween, certain idiots attempt to contact Houdini (he died on Halloween, 1926)  at his graveside. Our arrival was not welcome. We may have triggered a murder, or at least a severe beating, and no regrets because the punk deserved it.
I also tell you how I saved Halloween and you can too, by eschewing (I've always wanted to use that word) all corporate operated spooky houses and theme parks and creating your own DIY Halloween kicks. How? Drag ass to a cemetery and poke around for a couple of hours. Visit that abandoned asylum at the edge of town. Scope out your creepy neighbor's basement unannounced and discover why he wears rubber gloves when gardening. There's creepy, scary crap everywhere and you need not pay Disney $125 for their candy ass, sissified, sanitized thrills and chills.
Or, you can build your own monster like I did. When my kid was a tot, we made a 6'7″ Frankenstein. Somewhere I have a hi-res color image of him, but like I said, it's late and I'm too tired to dig it up so here's one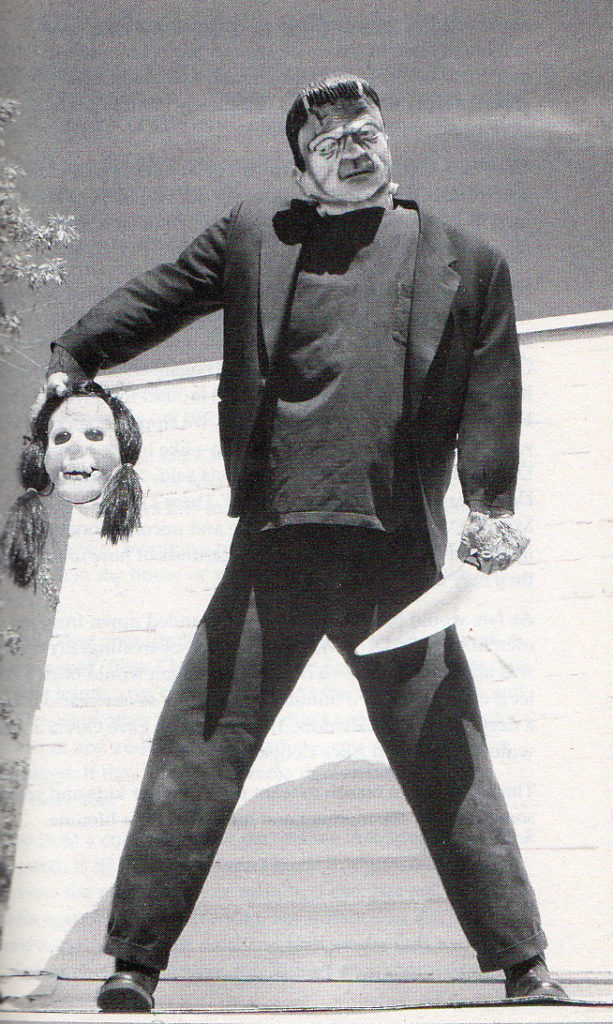 in glorious B&W from my book Mack Daddy. What's Frankenstein doing with a carving knife and a severed head? Having a jolly good time, I'd say.
Each year, we re-skin him as whatever the hell we want. Here's a link to a video of him as a killer clown. That year, not one pesky kid rang our bell requesting candy. Wonder why?
Join the Patreon here. Before month's end, I'll post a bonus episode on how I screwed over a car dealer (and you can, too!). The smartest $5 you'll ever spend.
Follow the show on Twitter here.
Write to me here: thatlarryshow@gmail.com.
Happy Halloween. Sleep well as you dream of those push-rods embedded in Han Solo's eyeballs, maybe so deep they punch through the back of his skull. Nite-nite.