Podcast: Play in new window | Download
Subscribe: iTunes | Android | Email | Google Play | Stitcher | RSS | More
A woman forces Larry to dance and tries to drown him in vomit • Larry is sexually harassed (again!) at the company holiday party • Gifts that say  "I like you… sorta" • How to attend  (but not attend) holiday parties •  How getting religion can get you out of an awkward Christmas dinner • When the box is more important than the gift • Your PRE-HOLIDAY primer – listen or suffer – the choice is yours!
This show is as inextricably linked with Christmas as Jesus and Santa Claus. For it was almost one year ago, on a dry and windy Los Angeles night, that That Larry Show was born. And it came into this world mocking cheesy paens to Christmas like the worst Christmas song ever recorded, John Lennon's hideous dirge, "Happy Xmas (War is Over)." How could any song with parentheses in the title not suck? Not to mention a kiddie choir with too much treble.
Next I put Charlie Brown in a warm tub, gave him a fist full of Nembutal and crooned him into the big sleep. No regrets there either. I never liked him. Never found him funny. That lame-ass cartoon was what I call chuckle-humor. Never a belly-laugh. Just polite, low-volume, low-octane chuckles. But not from me. I never chuckle. I either laugh till I puke or I remain silent. No gray areas in humor. Chuckle humor is like political humor. Unfunny. And unfunny comedians are called "humorists," ever notice that?
But that was then and this is now. Here we are nearly a year later, but a smidge too early for my official Christmas Show, but this one is a powerful prelude.
Here, you will learn why working in sales can really suck and sometimes no amount of money is sufficient for what is asked of us. You'll also discover why you should always stay several paces from an angry woman with a belly full of vodka and hors d'oeuvres. You'll learn how to shop for a new girlfriend and deflect pressure to commit – even a little.
Why do women wield the word "commit" like a mini gun? When I hear that word, I want to commit – seppuku.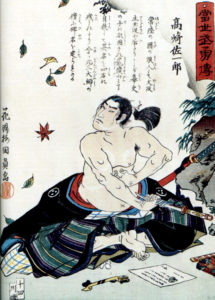 But I'm drifting here. This is the Pre-Holiday Lock 'n' Load episode and it's everything you need to prep you for the holidays.
You also need to hear the latest Bonus Episode – "How NOT to be a Victim." It will help you avoid commitment and ultimately, seppuku.  Listen here.
That should keep you busy and safe until next Tuesday.
Write to me at thatlarryshow@gmail.com.
Or sing me a song or complain or tell me your sickest secret at 302-71-larry.